The teacher's certificate for John F. Burleyson 1868-1941 and the school census from Bloomington School were recently found among John F.'s papers. We knew he taught at Bloomington but this gives us a date along with the names of his 109 students for the school year 1906. Many of these students can be seen in the 1912 picture of the Bloomington School Commencement.
The teacher's certificate was issued in 1901 when John F. was 33 years old and had just recently married Ada Efird. Their first child, Nora Blond Burleson (Mrs. Worth Almond), would also teach at the same Bloomington School. See the October 21, 2001 issue of Recollections, page 59, for Nora's story as well as a copy of her teacher's certificate issued in 1927. She was one of the first to receive North Carolina Certification. By John H. Burleson
We would like to thank John H. Burleson for this picture and the Teachers Certificate for his grandfather, John F. Burleson. At the Burleson Family Reunion sponsored by the BFRG in October 2001 we honored all the Burleson Related Teachers Past and Present. Volume IV of the Recollections contains biographies and family stories about the teachers we recognized, 67 total and we have added several since then. At that time all that was known was that John F. Burleson, T.H. Almond and Ireneus Burleson were listed as teachers in a newspaper article July 1, 1941. When we began this project we did not realize the impact that these early Burleson teachers had on the development of the educational system in Stanly County. As the research continues more and more information comes to light. One example is the Teacher's Certificate that John found for his grandfather.
On and interesting note, T. H. Almond, listed above as a teacher at Bloomington School, is John Worth Almond's father. Worth Almond married Nora Burleson, John F. Burleson's oldest daughter.
Bloomington School Western Stanly Co, NC Circa 1912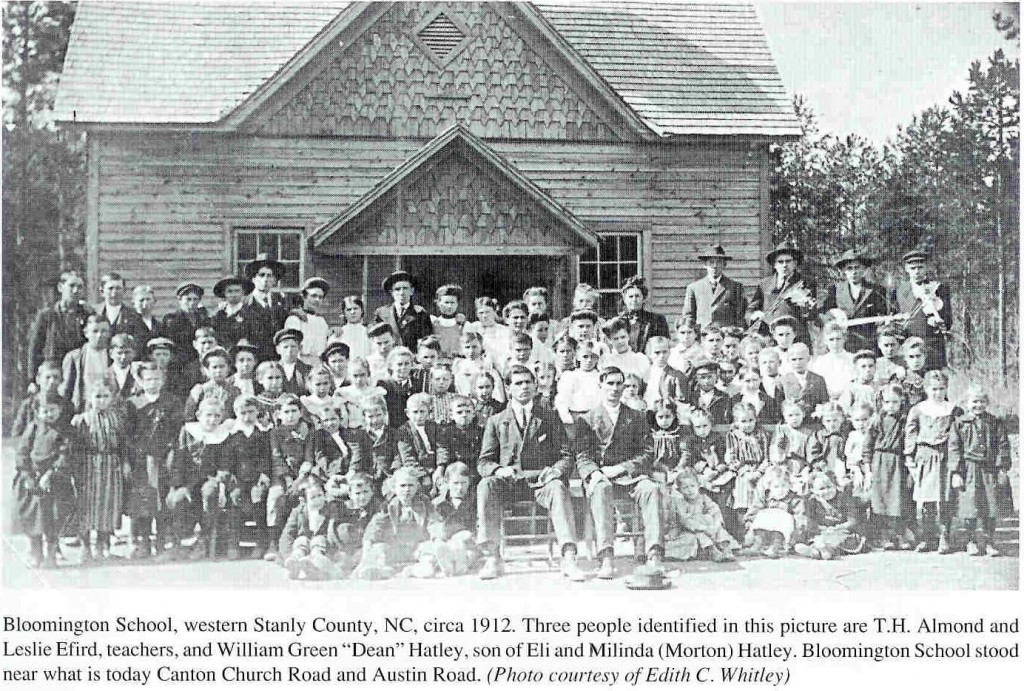 Teacher's First Grade Certificate
I, county Superintendent of Schools for Stanly County, North Carolina, Certify that I have, in accordance with Section 37 of the School Law of 1901, thoroughly and fully examined John F. Burleyson an applicant for a Teacher's Certifi cate, on the several branches of study named below, and that his true grade of scholarship in each is indicated by the number annexed to it, 100 indicating the highest:
Spelling (including sounds of letters),…………………95
Defining,…………………………………………………………….96
Drawing,…………………………………………………………….–
Reading,…………………………………………………………….94
Writing,……………………………………………………………..95
Arithmetic (Mental and Written),……………………..95
Language Lesson,………………………………………………–
English Grammar,……………………………………………..83
Geography,………………………………………………………..85
Elementary Physiology and Hygiene,…………………92
History of North Carolina,………………………………….90
History of United States,……………………………………90
Theory and Practice of Teaching,……………………….93
School Law of North Carolina,…………………………….90
Civil Government,………………………………………………88
Agriculture,………………………………………………………..–
The said applicant has also furnished satisfactory evidence of good moral character, and has certified that during the examination he has not received help from any source and has given none to anyone else.
This Certificate will, therefore, authorize the said John F. Burleyson To teach in the Public Schools in Stanly County during two year only from date hereof. This 9th day of November 1901 R. L. Smith County Supt. of Schools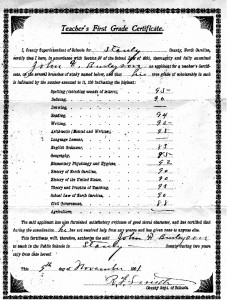 John also found a School Census for the District of Almond Township – 1906. His wife Nancy transcribed it and they submitted it to the Stanly County Genealogical Society for publication.
The School Census of the
2nd District of Almond Township – 1906
Submitted by John Hoyle Burleson
and Transcribed by Nancy L. Burleson
The school census of the 2nd District of Almond Township contains the names of 109 white students of ages from six to 21 years. The year was 1906, the one room frame school house was valued at $125.00. The Bloomington School was located on the Austin Road just South of Canton Road in the Western section of Stanly county. Also it contains the grade level one through six of the students and parents names. Eli Hatley and John M. Morton were the two committeemen.
John F. Burleyson (1868-1941) was the teacher. I found this school census among his papers. I also found a teacher's First Grade Certificate issued to John F. Burleyson by the Stanly County Superintendent of Schools, R. L. Smith, 9th day of November 1901.